Bubble Teas
Our Tea range is all freshly made to order with premium quality tea imported from Taiwan.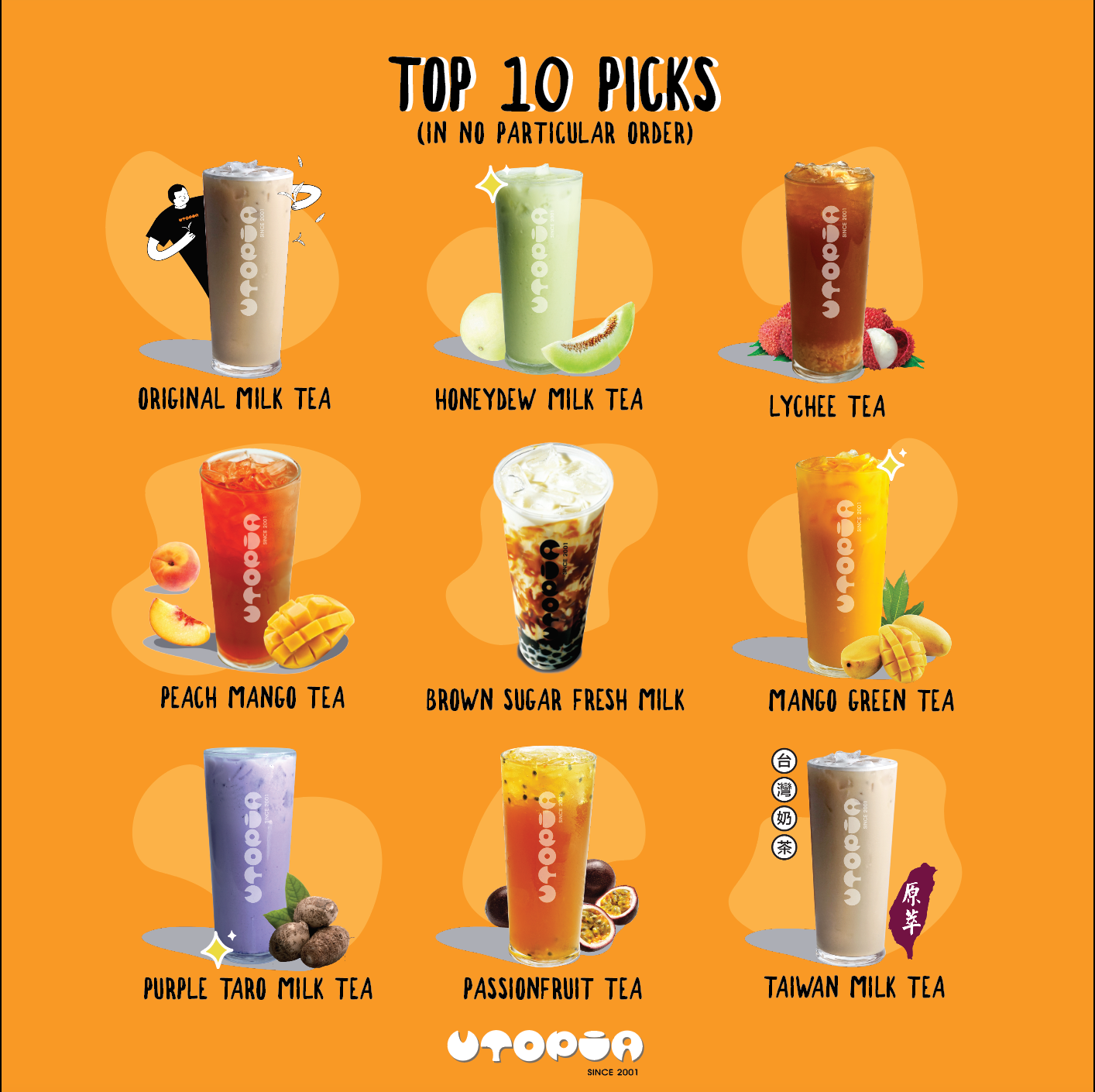 Here's a few general faves if you're unsure c;
Our most beloveded drinks that is highly recommended if this is your first time drinking bubble tea or you want to try something different!
Check out the rest below:
Summer Pineapple Series
Pineapple Green Tea

Sweet pineapple combined with refreshing green tea, perfect for the hot weather.

Pineapple Passionfruit Green Tea

Sweet pineapple with a hint of sour and crunch of passionfruit gives it an extra kick!

Pineapple Coconut Snow

Sweet and refreshing pineapple coconut snow.
Limited Time Only!
Bubblegum Milk Tea

A milky, decadent flavour reminiscent of lollies and sweet treats. The perfect drink to sweeten up your day.
Peach Blossom Tea Series (NEW)
Peach Blossom

Life's peachy with this sweet delight! The perfect combination of floral and fruity notes.

Snowy Peach Blossom

Crushed peach and ice - a sweet and refreshing drink to cool you down in the warmer seasons.

Peach Lychee Blossom

Floral and fruity with real lychee pieces! This delicious combination will surely put a smile on your face.
Teas
Oolong Tea

A subtle floral and strong drink with roasty hints to the tea. Beautiful and flavourful.

Green Tea

Delightful, oceanic and slightly nutty, it is a delicious bittersweet classic.

Earl Grey Tea

A mix of black tea with hints of a citrusy essence, a well known and widely loved flavour.

Premium Jasmine Tea

Delicate, sweet and slightly floral, this tea is refreshing and is suitable when you need something that is light.

Rose Tea

Fragrant and floral, this drink is deliciously sweet and smoky.

Summer Love Tea

This tea comes from its violet flowers, with, as the name suggests, blooms in the summer season. A great pick on any day out.

Winter Love Tea

Our lovely tea derived from osmanthus flowers, the name originating from its bloom in the winter season.

Honey Tea

Our slightly sweet honey tea, fresh and tempting.
Milk Teas
Original Milk Tea

Our classic black milk tea, the perfect balance between sweet and bitter.

Utopia Milk Tea

Creamy and sweet, this is our take on the Thai milk tea, a vanilla black milk tea goodness.

Taiwan Milk Tea

A creamier, sweeter version of the original milk tea

Oolong Milk Tea

A milky addition of the strong and quality tasting chinese tea.

Green Milk Tea

A thicker, creamier taste with milk added to our ever-pleasant green tea.

Matcha Milk Tea

Our matcha milk is irresistable to drink with a natural flavour and a sweet nuttiness harmoniously combined.

Premium Jasmine Milk Tea

A milky take on the florally, dainty premium jasmine tea, silky and delicious.

Earl Grey Milk Tea

A type of black tea with tones of citrus and velvety milk added to create a slightly sweeter version of the tea.

Rose Milk Tea

Graceful and sharp, this floral drink includes a milk version of the tea, nice and pleasing.

Salted Caramel Milk Tea

Thick with a sugary caremalised taste paired with its sharp tinge of salt to cut down on the sweetness.

Summer Love Milk Tea

These violet flowers are sweetened and creamy with milk added into the mix.

Winter Love Milk Tea

Flowers that bloom in the winter are combined with milk to create a delightful drink.

Honey Milk Tea

Honey and milk tea make for a bursting caramel-like, citrus and creamy goodness.

Chocolate Milk

Decadent and addicting, we use our one of a kind chocolate to provide for a quality rich and earthy flavour.

Milo

How could we forget about one of Australia's most iconic foods? Delicious and chocolatey, this drink will melt in your mouth.
Brown Sugar Series ❄️
Brown Sugar Fresh Milk

The classic sweet and creamy brown sugar drink with boba pearls, appetizing and suitable for any day.

Utopia Brulee

Similar to the brown sugar fresh milk, this drink adds an additional cheese latte topping on top, torched with sugar, to please any sweets lover.

Brown Sugar Soy

A vegan take on the classic brown sugar, adding in that soy to give the drink a creamy, natural, sweet flavour.

Brown Sugar Matcha

Sweet brown sugar and matcha provide for the top tier balance between sweet and bitter, a combo that harmonises in your mouth.

Brown Sugar Coffee

Brown sugar and coffee is for those who love a sweet treat with a boost of that extra caffeine to stay energised and joyous.
Ice Coffee Series ❄️
Ice Coffee Milk

Milky and bitter, the classic kind of coffee for your regular boost of energy.

Hazelnut Iced Coffee

Sweet and bitter, it makes for the most delicious balance, for all those sweet tooths that need that hit of caffeine.

Salted Caramel Iced Coffee

Another combo of sweet and bitter, a glazed sugary flavour with that hint of salt with coffee.
Fruit Teas
Apple Green Tea

Nice and refreshing, this sweet drink is perfect for the summer and will keep you smiling all day.

Mixed Berries Tea

Fruity and yummy, a drink that is sweet, tart and slightly aromatic, a perfect blend of the best.

Purple Dream Tea

Rose tea base with our sweet, smoky grape flavour, a combination that fits together seamlessly.

Passionfruit Tea

Tart, sweet and crunchy, this drink hits all the right ways, bursting with flavour.

Lychee Tea

Perfectly sweet and bright, this drink is always a popular and delicious pick.

Lemon Green Tea

This sour citrus is mellowed when added to our light green tea, resulting in that healthy, and refreshing balance.

Plum Green Tea

Sweet and sour, with tanginess and full of rich flavour, adding a real plum fruit in every drink.

Mango Green Tea

That mouthul of fresh mango and sweet green tea, is pure and a family favourite.

Strawberry Tea

With real strawberries and fresh brewed tea, this drink is sweet together with hints of bitterness and delicious goodness.

Blackcurrant Fruit Tea

Earthy, berry and sweet, this drink is tangy and perfectly juicy.

California Mixed Fruit Tea

Our tropical fruit flavours with green tea is fruity, refreshing, and a reminder to the fun memories in the summer time.
Fruit Milk Teas
Honeydew Milk Tea

Nectarous sweet and soft, this flavour is a nostalgic classic and an all time favourite.

Purple Taro Milk Tea

Creamy and thick, this drink taste like a sweet, buttery and slightly nutty flavour, a pretty purple that you won't regret trying.

Fresh Taro Milk Tea

A thicker version of the purple taro, the drink uses the natural sweetness of real taro and possesses a mellow nutty flavour.

Hazelnut Milk Tea

Our hazelnut milk leans on the sweeter side of flavour that maintains the musty and nutty taste of real hazelnuts.

Lychee Milk Tea

Mildly floral and sweet, this drink is creamy and juicy, the milky version of the lychee tea.

Mango Green Milk Tea

Mango and milk creates for an icecream like fruity drink that is dreamy and refreshing.

Strawberry Milk Tea

Natural and sweet, this drink becomes a creamy, speckled dream that is well balanced and yum.

Coconut Milk Tea

A slight vanilla and wood-y taste, the coconut and milk pairs for a velvety sweet treat.

Wintermelon Milk Tea

A cool and refreshing fruit with sweet milk works flawlessly to create a sweet, pleasing drink.
Peach Series
Peach Tea

Our pleasant peach tea is invigorating and sweet (and comes as a milk tea version as well).

Peach Lychee

Peach tea with lychee comes with real lychee pieces, a combo perfect for any day.

Peach Mango

Peach and mango offers for a fresh and sweet fruit blend, tango-y and irresistable.

Peach Passionfruit

Peach and passionfruit matches deliciously together, possessing a sweet start and ending with a modest sour aftertaste, balancing the pair.

Peach Tropicana

Sweet peach tea paired with tropical fruit flavour to boost your mood and get you in that relaxing cool zone.
Butterfly Pea Series ❄️
Butterfly Pea Passionfruit & Kumquat

Butterfly pea tea provides for a subtle wood-y taste, along with its strong passionfruit and kumquat components to add that sour, crunchy flavour.

Butterfly Pea Lychee

Natural taste from the butterfly pea tea is added to our sweet and bright lychee, a combo like candy and super refreshing.

Butterfly Pea Lemon

Beautiful blue butterfly pea tea mixed with the sour citrus lemon, calls for a healthy, delicious and pure tasting drink.
Snows
Grape Snow

Crushed ice with sweet grape flavour.

Watermelon Snow

Crushed watermelon and ice, deliciously refreshing and juicy.

Passionfruit Snow

Hints of sourness and a lot of sweet, this ice drink is perfect for the summer.
Smoothies ❄️
Mango Smoothie

A thick and dairy cold blend, is sweet and ideal for any hot day.

Strawberry Smoothie

Sweet, thick and yum, this smoothie taste like a berry ice cream dream.

Banana Smoothie

Fruity and creamy, this drink is a great one for those who want something refreshing.

Chocolate Oreo Smoothie

Sweet, chocolatey and thick, the oreo cookies give this smoothie a little bit of crunch and is perfect together.
Toppings
Sago

Aloe Vera

Egg Pudding

Chocolate Pudding

Grass Jelly

Apple Jelly

Grape Jelly

Lychee Jelly

Rainbow Jelly

Coffee Jelly

Pop Jelly

Crystal Jelly

Cheese Latte

Red Bean

Strawberry Heart Jelly

Mango Star Jelly