Popular Questions
I'm new, how should I order my drinks?

Often people come inside to purchase their drinks or over our app.

The process of ordering is not a long one so no stress. People often follow these steps:

1. Pick a drink from our menu.

2. Choose your size: we have large or regular (unless it's a fixed size).

3. Choose your sugar and ice levels from the scale on our menu.

4. Lastly, pick your topping/s.

That's all there is to it! Hope you enjoy your drinks (and why not buy a cake with it too?).
How do I collect my credits?

We used to have a loyalty/vip card but that is no longer viable since 2021. What we do have however, is our own Utopia app, where all you need to do is install the app (available on Google Play/Apple store) and create your account.

From then, you should be on the home page (if not, there is a little house button at the bottom) and you will find a white circle button on the top right corner of your screen. Click it and it will display a qr code that you would scan on our display ipads (if you are unsure, our lovely staff will guide you through it) and make sure you scan before you purchase!

Your credits will then arrive a while after in your account.

*Buying cakes do not count in our point system however :c
How do I use my credits?

Since our points are on the app, you are only able to use it through the app by making an online order. If you want to grab a particular drink for free, you must gain enough points first, with one point/credit = one dollar.

For example, you want the brown sugar fresh milk. You need to earn up to 7 points as the drink costs $7.

*Split payments with points and your own money are not available options to purchase a drink unfortunately.
How do I order a birthday cake?

Birthday cakes can only be ordered in store, preferably 3 days in advance. This is because we need the time to prepare your special order and we do require that you pay on the day you order also!

We do recommend to order as early as possible (3 days or more), for you to be able to pick your cake up at any time!

*If you want to look at our bday cakes, take a look at our cakes menu page.
Bubble Tea Questions
What teas do you guys use and is it fresh?

Most of the bubble teas we make are black or green tea based and yes is freshly cooked every morning or throughout the day.

We also have other tea flavours that are freshly brewed on the spot once ordered!

Check out our bubble tea page for our many cool options.
Do you guys do warm/hot drinks?

We sure do! Most of our bubble tea options can all be made warm/hot to your liking.

The drinks we do not make warm/hot however are the drinks that have the snowflake symbol beside it on our menu :c

Keep in mind that we don't add toppings to our hot drinks as they will melt inside the cup!
Warm drinks we can!
Are your toppings gluten free?

Yes all our toppings are gluten free!
Do you guys have other milk options?

Yep, we have soy alternatives for all of our milk drinks!

*This excludes our smoothies however.
Do you guys have delivery?

We do not do our own delivery but we are on a few delivery apps which are Ubereats, Doordash and Menulog!

To make sure you guys get your boba cravings satisfied.
Do I get a discount if I bring a reusable cup?

Yes you sure do! We take 50c off your drink when you bring in a reusable cup. This is our little way to show that we appreciate your efforts in caring for our environment.
Do you guys have discounts?

Absolutely! We take off 10% on your bubble tea when you show our staff your Utopia keyring or eco bag! We love all our Utopia fans and want to show this by giving a small token of our appreciation.

Every Monday is our free upsize on all our bubble teas.

And we are also partnered up with Asia, Chinese Society and the Bubble tea Club, to deliver members of these universtiy clubs a 10% discount on their bubble tea. Just make sure to display your membership to our lovely bobaristas and we'll apply it right away.

Any updates will be posted via our social media platforms and website so stay posted!

*we only enable one discount to apply to an order.
Birthday Cake Questions
What sizes do you guys have?

The bday cake sizes we have are:
6" (serves around 6-8 people),
8" (serves around 9-14 people),
10" (serves around 15- 20 people),
12" (serves around 30-45 people).

Happy celebrating!
When can I pick up my cake?

You choose the day and time you wish to pick up you birthday cake! Special birthday cake orders are recommended to order 3 days or more in advance for any time pickup so our awesome bakery can create your cake as fresh as possible!


However, the latest pickup day anyone can place a special order is 2 days in advance ONLY picking it up after 3pm. Our bakery needs to spend their very special attention and love to your cake!

Picking up the cake will be in store at any location of your choosing!
Do you do custom cake orders?

We do not do custom cake orders but we do enable adjustments to our many birthday cake options available.


Adjustments that can be made are:

- Change fillings (sponge, cream, etc).

- Change colours (change colours to colours we already use for other cakes).

- Add writing on the cake (writing is on a round piece of chocolate manually put in by yourself).


When ordering just let our staff know and we will always be happy to help!

*adjustments may incur a cost.
App Questions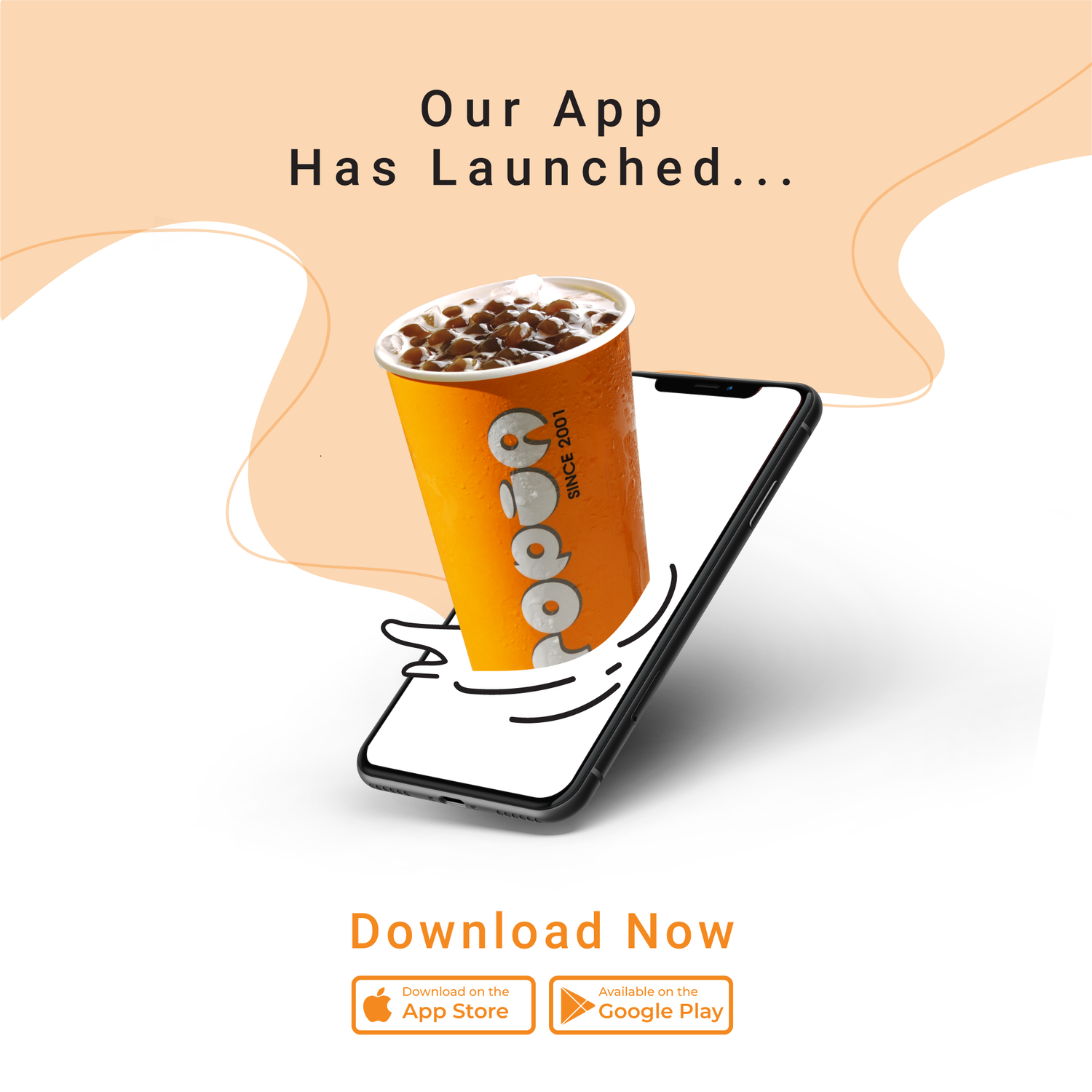 What can I do on the app?

When you make an account, you can:
- Pre-order your drinks (skip the queue!)
- Find your nearest stores
- Collect credits
- Send gifts

and more! (sometimes we add games so keep an eye out c;)
Where can I find the app?
How do I order on the app?

All you need to do is firstly open the app.

1. Select the store you want to pick up at.
2. Choose your favourite drinks you want ordered.
3. Choose your toppings, size and ice and sugar levels.
4. Once you are done, click on your Basket. It should take you to a page with all your items and store details. Check everything before clicking Continue.

*If you want to use your credits, click the heart button at the bottom of the particular drink you want to use your credits for (the price will aoutomatically change to $0.00)
I paid for my bbt but the order didn't go through, what do I do?

For orders that do not get accepted within a few minutes, they will automatically be cancelled and you will be refunded.

If you still wanted to purchase your bubbletea however (we hope you do), you would just have to come in store and order!